FLASH BACK HARDY CARE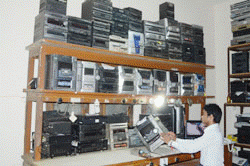 Six friends reading in Applied Physics in Dhaka University & BUET, started an organization for repairing electronics equipments of home appliances named "Hardy Six Electronics" in the year 1982. Then "Hardy Six Electronics" was a well known all throughout in Bangladesh in electronics world.

By the time they finished their studies and begin their carrier, the responsibility of "Hardy Six Electronics" was handed over the Mr. Saiful Haque, who was one of the partners. But when he became a teacher of Dhaka University , he was very busy and he hand over the responsibility on the four brothers of an electronics family namely Abdus Salam, Abdul Mannan, Abdul Latif and Abdul Mazid. Then the name of the organization was changed into "Hardy Electronics".

Two years later Abdus Salam went abroad getting employed as an Electronics Engineer. After another year, Abdul Mazid went to Sheltech Sierra in elephant road to work on Industrial Electronics and established an organization named "Hardy Tech". Then Abdul Mannan and Abdul Latif remained busy with "Hardy Electronics" to repair all kinds of electronics equipments of home appliances.

About ten years later, Abdus Salam returned to Bangladesh and got engaged in making "Hardy Electronics" to a Total Solution for all electronics products by introducing machineries used in Medical, Garments and Industries. Since then "Hardy Electronics" had received massive response thus a new organization "Hardy Care" was formed in order to provide better services and also in larger scale. In the new organization Abdus Salam works as a Overcall Technical Director, Abdul Latif as a Director of buy lumigan Medical Sector, Abdul Mannan as a Director of Maintenance and Mr. Saiful Haque as an Executive Advisor.

Without replacing circuit boards of Medical, Garments and Industrial electronics Machines and how to repair at a short time & cheaper cost that is the purpose of this organization. In nutshell Customer satisfaction our goal. Everybody's co-operation and suggestions are earnestly solicited for overall improvement of the organization.